Anova Partners is your one-stop shop for Structured Products, Private Label Fund Solutions and Securitization Solutions.
Structured Products
By booking all your current and future products into our proprietary risk database, we enable you to overcome the information asymmetry that still exists between buyers and sellers. Our risk and product management services are being facilitated through a state of the art technology which should enable you to make better investment decisions that result in a higher return for your clients.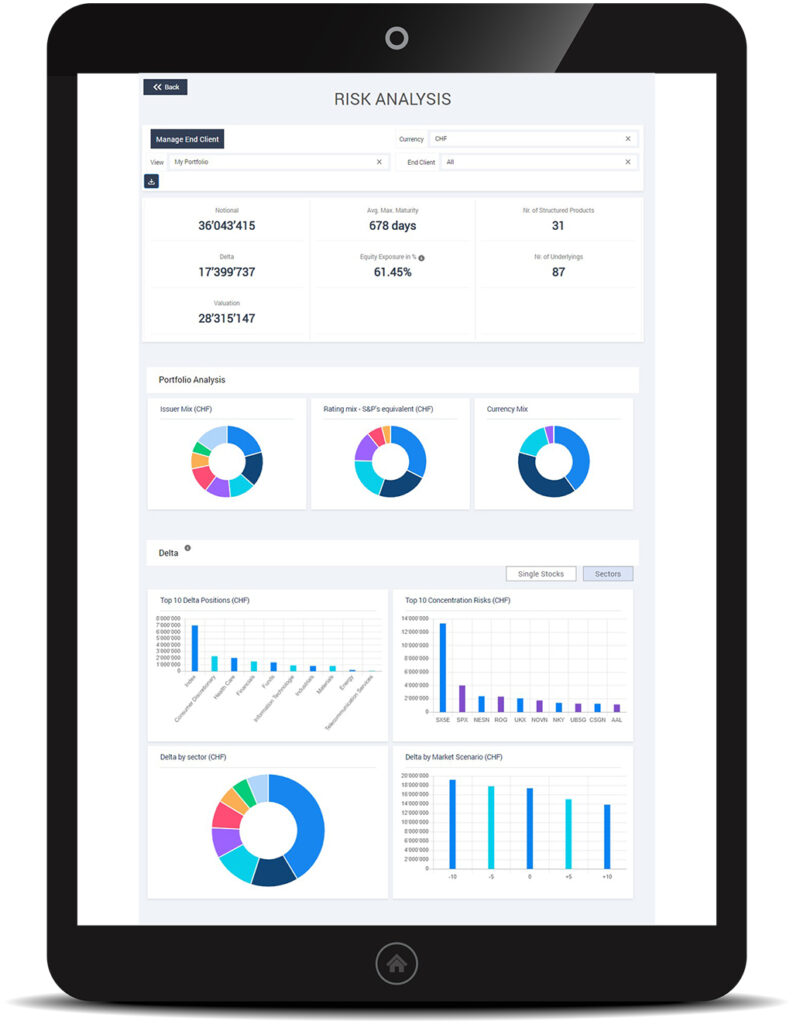 Our sophisticated portfolio analysis is based on an independent quant library which allows the decomposition of structured products into their individual components.
We provide technologically enabled investment and product management services and provide timely analytical portfolio insights like:
Backtest & Scenario Analysis'
Exposures & Sensitivities
Independent Product Valuation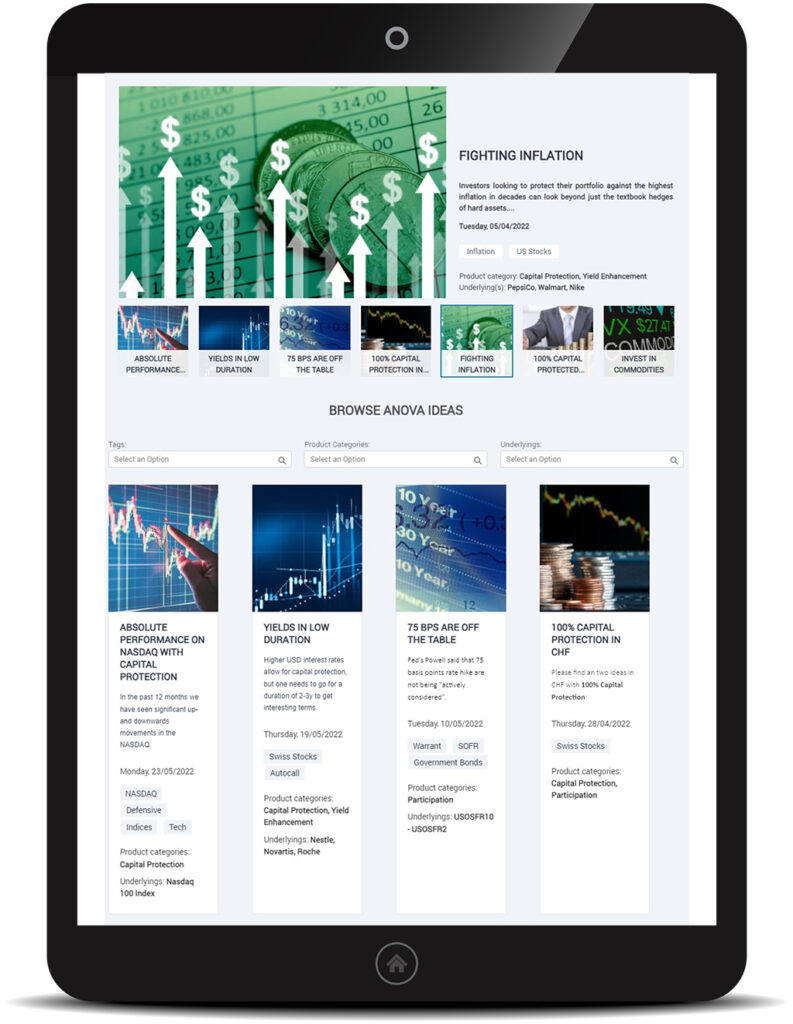 Our proximity to the market, the daily interaction with our clients and investment banks as well as our affinity to alternative investments will allow you to discover independent and current investment opportunities.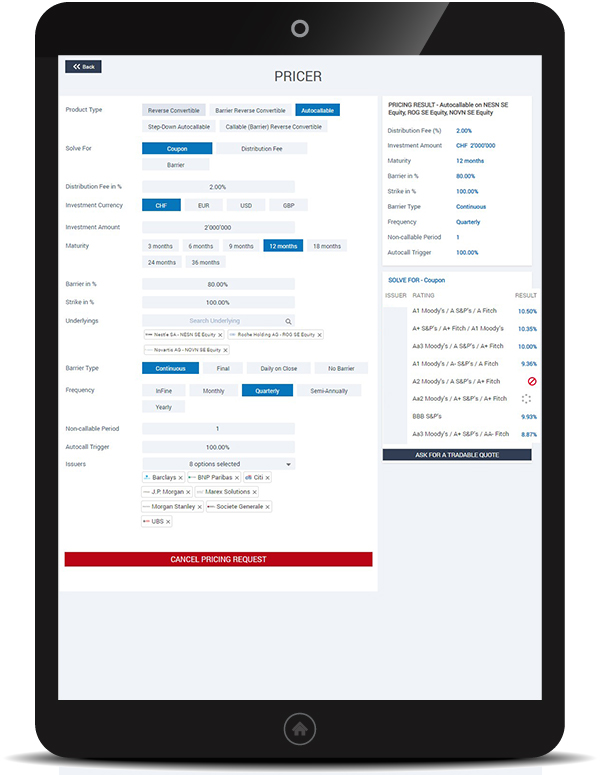 Thanks to our prime access to more than 25 counterparties, we facilitate reliable, fast and transparent execution of your trades based on the best execution principle.
By representing all our clients, we can count on excellent prices and outstanding service from the issuers, which again benefits our clients.
After each trade you will receive a certificate attesting the results of a pricing competition.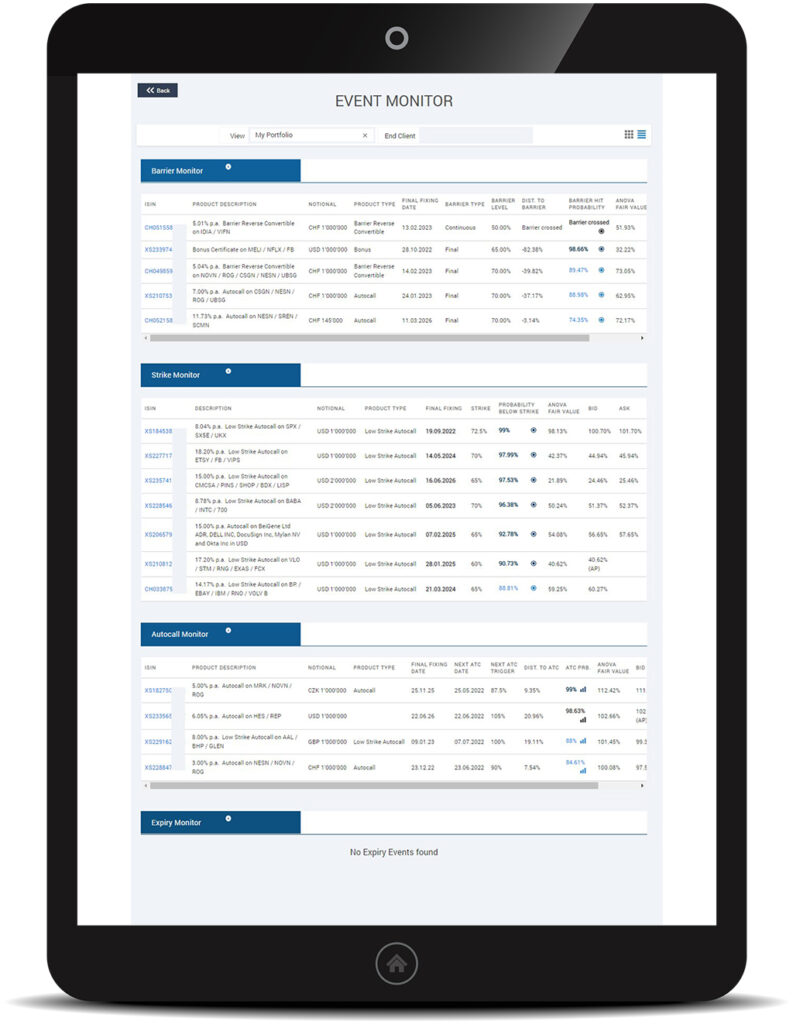 The online event monitor as well as the automated email notifications allow you live tracking of various potential events in your portfolio.
Our risk engine can accurately calculate probabilities of barrier and autocall events. This allows you to proactively approach your clients – action instead of reaction.
Private Label Fund Solutions
We enable you to structure, manage, represent, and distribute your own private label fund whatever your needs and requirements are. Together with our partner 1741 Group we offer exclusive access to a holistic solution that takes care of all your needs. Our all-in-fee approach ensures full price transparency.
Efficiency and Cost
Not only can significant efficiency gains at the operating as well as the regulatory level be achieved, but also cost savings on custody and transaction fees. Our offering is based on a low all-in-fee which includes structuring, all documentation, NAV calculation, reporting, custody, auditor's costs and authorisation procedures.
Maximum Investor Protection
Funds are supervised either by FINMA in Switzerland, the FMA in Liechtenstein or the CSSF in Luxembourg. Further legal provisions ensure independent auditing and checks on the fund by the custodian bank.
Transparency
Funds exhibit a high level of cost transparency. The Total Expense Ratio (TER) provides insight on the total costs associated with managing and operating a fund.
Flexibility
We offer you a large scope for customization. In principle, there is absolute freedom in how the investment fund is designed.
Distribution
Upon request Anova Partners can help with the distribution of your fund to our network of institutional investors.
Tax Savings
Funds benefit from various exemptions such as the VAT, stamp duty and refunds of withholding tax.
Time to Market
Usually a Swiss Quali Fund is set up in around four to six weeks.
Counterparty Risk
Funds exhibit no counterparty risk.
Securitization Solutions
We offer access to off-balance sheet issuance structures for public-, private- or digital market products for your investment strategy with no bank issuer risk. Our comprehensive approach ensures and coordinates service providers throughout the life cycle of your product.
Accessibility
SPV issued Certificates enable clients to access opportunities with high investment thresholds. Gain new clients by making your strategies accessible without handing over control.
Counterparty Risk
Offered segregated from the issuer's balance sheet with a Swiss ISIN number, makes the certificates tradable and transferable. The counterparty risk is defined solely by your performance.
Distribution
Upon request and due diligence, Anova Partners can help with the distribution of your strategy to our network of institutional investors.
Flexibility
Securitize underlyings across liquid and illiquid asset classes and make them bankable. You choose your preferred brokerage partner.
Simplicity
Hand over complexity to Anova Partners and concentrate on your core offering.
Scalability
Create efficiency in managing client's accounts and strategy components.